About Nature Adventures Camp
The South Shore YMCA Natural Science Center's Nature Adventures  Camp offers exciting opportunities for children to learn about the natural world.
Campers will…
 Develop awareness, appreciation, and concern for our environment and the creatures in it.
 Explore the habits and habitats of animals living in our woods, ponds, meadows, and along the shore.
 Have fun, use their imaginations, and just be kids in a low-stress, outdoor environment.
 Learn about natural science through stories, hikes, games, crafts, and a host of other fun-filled activities.
 Renew old friendships and make new pals.
Location & Grounds
The South Shore Natural Science Center is located at 48 Jacobs Lane in Norwell, minutes from Route 3 (exit 13) and across from Jacobs Pond. Our camp is situated on 30 acres of woodlands and fields, with rambling nature trails, numerous vernal pools and quick access to Jacobs Pond.
Our Camp
At camp, safety is our number one priority. All of our camps comply with YMCA Day Camp and Massachusetts Department of Public Health regulations. In addition, we are licensed by the Norwell Board of Health.
Our camp is an outdoor recreational camp. We make use of tents, pavilions and indoor spaces as needed during inclement weather. In all but the most severe weather, children will be outside.  Children should be dressed for the conditions.
Our Staff
Our staff members are mature high school and college students and adults with camping or teaching experience. All are required to participate in a comprehensive training program including First Aid, CPR, Epi-Pen Administration and Inhalation Treatment for Asthma.  The counselor-to-camper ratio is 1:5 for campers under age 7, 1:8 for campers 7 and older.
Get Ready for 2023 Nature Adventures Camp!
Find your summer adventure at camp! Registration opens for South Shore YMCA Members on 2/1/2023
SEARCH & REGISTER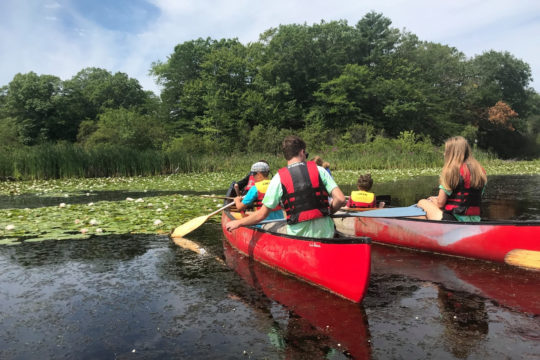 Learn more about Nature Adventures Camp
For Nature Adventure Camp details and registration information, contact Dan Berry, dberry@ssymca.org