Located on 30 acres consisting of meadows, woodlands, and a pond, the South Shore YMCA Natural Science Center includes six interpretive nature trails and access to 200 acres of conservation land.
On the weekends, the community is invited to explore our trails and bring a picnic lunch to enjoy at our outdoor amphitheater and picnic area.
NOTE: During the week, our trails and land is dedicated to our Nature Center Preschool or Summer Camp programs and is not open to the public. 
Be sure when you get here to check out our trail map before you explore our trails, knowing that the next time you come back, in another season, they'll be entirely different. Take in the sights, and revel in the ever-changing birdsong throughout the year.
Six interpretive trails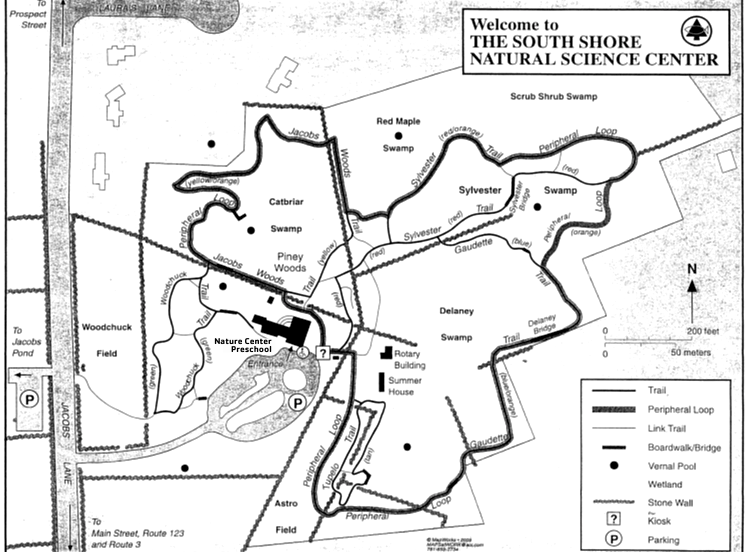 All six of our interpretive trails are marked by colors for easy navigation and vary in length and terrain. Some trails, like our Discovery Trail, feature elements for play and exercise such as a musical fence, xylophone, sensory box, discovery tables, mushroom hoppers, log path, balance beams, and pull-up bars. Located close to the main building at the Science Center, the Discovery trail is designed to enhance the outdoor family experience.
Plan your weekend visit to our trails
Nature Center located on 30 acres
Six interpretive nature trails
Access to 200 acres of conservation land
Outdoor amphitheater and picnic area
Children's Garden
Rescued animal exhibits