Preschool
Nature Center Preschool
Enrollment for Fall 2020 is ongoing with limited openings remaining!  For enrollment information, please contact Michelle Marquis, Preschool Director, at 781-659-2559 x216 or mmarquis@ssymca.org. Schedule a tour now!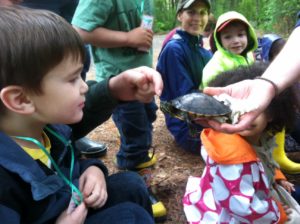 Nature Center Preschool supports young children's investigations and ignites their passion for learning.  By highlighting the interconnectedness of humans with the natural world, we provide a foundation of stewardship, inquiry, and innovative thinking. Naturalists from the South Shore Natural Science Center visit the preschool regularly to provide enrichment activities. Children will actively explore the Center's diverse habitats on frequent trail walks, as well as visits to meadows, fields, and woods. Indoor activities include visiting live animals, experiencing the assorted collections of the Center and exploring different parts of the building, including the EcoZone exhibit area and Coes greenhouse. Nature related craft projects and nature inspired songs, games and stories will be part of your child's day. We are licensed by the Massachusetts Department of Early Education and Care.
Nature Center Preschool has two beautiful classrooms offering more South Shore families an opportunity to experience our unique program for Preschoolers! Additionally, Preschoolers have an opportunity to participate in a water play program with their parent or caregiver at the South Shore YMCA Emilson Branch included in Nature Center Preschool tuition.