Learning and Growing
Nature Center Preschool at the South Shore Natural Science Center offers a unique program with active exploration in nature that fosters children's natural curiosity.
Direct experiences with nature encourage enthusiastic engagement in learning aimed at ways that young children learn best—through hands-on discovery and play!
Nature Center Preschool encourages children to experience their environment through hands-on activities thereby gaining an understanding of the world around them. The curriculum areas of language, mathematics, arts, science and technology, social studies, fine and gross motor skill, and social-emotional growth are included in a developmentally appropriate setting revealing the potential of each child. Each child is cherished and supported by the staff of the school to promote the confidence and caring of others.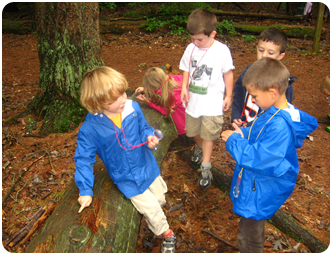 We align our curriculum to the Massachusetts Early Childhood Program Standards as well as the Guidelines for Preschool Learning Experiences and the North American Association for Environmental Education Early Childhood Environmental Education Programs:  Guidelines for Excellence.