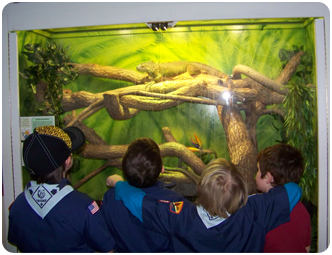 NOTE: Due to COVID-19, Scout Program options may be limited. Contact us at ssnsc@ssymca.org for available programming
The South Shore Natural Science Center offers programs for scouts of all ages. We can also provide outreach presentations for your scout meeting or ceremony. All of our naturalists have completed the Scouts of America Youth Protection Training course, are CORI and SORI checked, and trained in First Aid and CPR.
Live animals and our interactive EcoZone museum
Interpretive trails through wetlands, woods, and fields
Knowledgeable staff who provide fun, educational, hands-on programs
Our Scout Programs
Browse our program themes and contact us at ssnsc@ssymca.org for current program availability.
Frequently Asked Questions
Q:  What will the scouts do during the program?
A:  All of our programs are hands-on, educational and may include any combination of the following: visits to the Ecozone, Greenhouse, Children's Garden and Chicken Coop, wildlife presentations, nature walks, crafts, science experiments, demonstrations, or nature games. The program theme that is chosen more specifically designates what the scouts will be doing.
Q:  When can I schedule a program?
A:  Programs are available and can be scheduled year-round. SSNSC is open seven days a week.
Weekday programs can be scheduled after school, on early release days, and on some no-school days or holidays.
Programs can also be scheduled during our business hours on Saturdays (9:00am – 5:00pm) and Sundays (11:00am – 4:00pm).
Day programs must be scheduled at least two weeks in advance.
Overnights can be scheduled for Friday or Saturday night. Overnights must be scheduled at least three weeks in advance.
Please contact the Scout Coordinator for more information about scheduling outreach programs or leader trainings.
Q:  How do I schedule a program?
A:  Check out the website or scout brochure and choose a program start time, length of program, and the desired date(s). Call or Email the Scout Coordinator to check availability. The Scout Coordinator will return your call/e-mail and once the program is set, a non-refundable deposit will be due and a registration packet will be sent out. There will be a confirmation sheet in the packet to fill in and return.
Q:  Do you provide the badges?
A:  No, we do not provide any badges or pins. However, each child who attends an overnight at SSNSC will receive the official SSNSC Overnight patch.
Q:  What if it rains or snows?
A:  SSNSC scout programs run rain or shine. The program will be adapted to ensure enjoyment by the scouts. In the case of severe weather and the Science Center is closed, the program will be canceled and can be rescheduled per directions of the Scout Coordinator.
Q:  Are discounts available for scout programs?
A:  A discount is available for scout groups wishing to work on two badges, each during a 1.5 hour program. More information can be found under Day Program Discount on the Rates and Scheduling page.
For more information or to Schedule a program, please contact the Scout Coordinator at : 781-659-2559 or Email Us.