Vacation Week Program
February Vacation Week
For Children 3 through 6 years old!
Registration opens on January 6th 2020!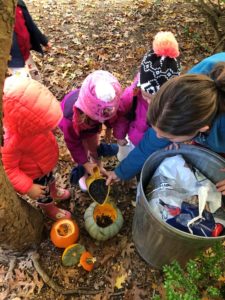 Our unique vacation week program for children ages 3 through 6 at the South Shore Natural Science Center is a partnership between experienced Nature Center Preschool teachers and knowledgeable Science Center Naturalists!  Teachers and Naturalists combine their talents to facilitate children's discovery of nature in their own backyard.

"Frozen Forest"
How do plants and animals survive the winter? Which birds brave the cold instead of flying south? Join us as we explore the Frozen Forest through hiking, tracking animals, and using our 5 senses to learn about the world around us. Please dress appropriately for the weather.
February 17th-21st

All sessions are 9-12:30; please send your child to the program with a

peanut/nut free snack and lunch

and appropriate dress for indoor /outdoor exploration!
Extended day! 12:30-2:30pm
To register, Contact Michelle Marquis, Senior Lead Teacher at mmarquis@ssymca.org or Diane Thureson, Preschool Director, at dthureson@ssymca.org 
 Fees:
$45/day members  $50/day non members
Extended day! 12:30-2:30pm additional $27
In addition to the registration, enrollment forms are required prior to children attending the vacation week program.  These include:
Enrollment form
Emergency Consent Form
Transportation Plan
Developmental form
If your child has a chronic health condition or life-threatening allergy, the following forms are also required, signed by a physician and parent/guardian.
Individual Health Care Plan
Medication Consent
Click here to download forms.