Special Exhibits
Northern Red-bellied Cooter Headstart Program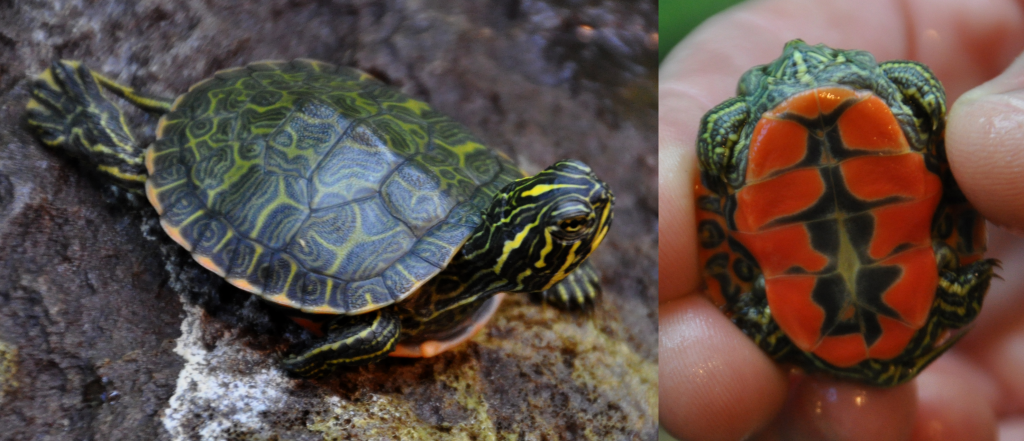 What is a "Cooter" and why is it so special?  The Northern Red-bellied Cooter is a large, mahogany colored turtle with a red or pink bottom shell. Currently state and federally listed as "endangered", in Massachusetts the turtle can only be found in the coastal plain ponds of Plymouth County where it depends on aquatic vegetation for food, and open, sandy beach areas for nesting sites. In 1984, due to habitat loss, predation and pollution, only 300 existed, however the introduction of MA Wildlife's Headstart Program changed that.
Over the past few decades science centers, zoos and schools have participated in the program (SSNSC since 1988), adopting hatchlings in early fall and providing food and warm water 24/7 for 8 months to accelerate growth. When they are released back to their natural habitats in late spring, the increased size raises the turtle's chance of survival from .1% to over 70%, a great feat! Almost 3,500 turtles have been released since 1984 and many of them are having babies. In 1990 and again in 2007, one of the turtles head-started by SSNSC in 1988 was spotted near a local pond. The turtle was quite large with a healthy shell – a success story for the program. Turtles are identified by the number of notches on their top shell, placed there before they are released.
Visit the EcoZone this fall to watch new half-dollar size hatchling turtles begin their adventure and check out the 10 pound non-releasable female adult living in our Turtle Pond.
For more information about the Red-belly Turtles visit MassWildlife.org.