The South Shore Natural Science Center is calling all artists to submit two dimensional, framed, artwork in the following media: oil, watercolor, acrylic, pencil, pastel, mixed media and photography for an upcoming exhibition, Beyond the Garden Gate, in Vine Hall Gallery.
Registration/Drop-off Dates & Times:
Wednesday, June 26: 12:00-6:00pm
Thursday, June 27:  9:30am-12:30pm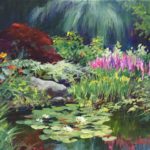 "Beyond the Garden Gate" Show Dates:  Friday, June 28 – Saturday, August 24
Meet the Artist Opening Reception:  Wednesday, July 24, 6:00-8:00pm.
Light refreshments will be served.  Prizes Awarded!
Click HERE for more details!