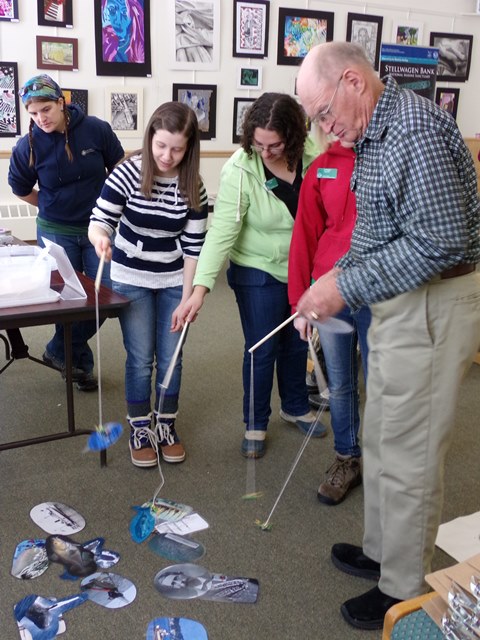 Just this morning the South Shore Natural Science Center accepted into its possession a new education program, one that we're proud to say we had a hand in developing.
The bulk of the work fell to the staff at NOAA's Stellwagen Bank National Marine Sanctuary – today represented by Volunteer Coordinator Anne-Marie Runfola and Maritime Archaeologists Matthew Lawrence an Deborah Marx – but the education staff at the science center played their parts in brainstorming, consideration of age-appropriateness of the learning materials, and even painting.
The results? A multi-station "Child's Sanctuary" that explores the mysteries of Stellwagen Bank National Marine Sanctuary through a sonar matching game, crafts, a diving-for-facts game and an experiential shipwreck "dive" project. The program kit comes with a teachers' guide as well as video components.
We are ready – and scheduled – to bring this project to schools, libraries and more! Needless to say we are very proud of our partnership with Stellwagen Bank and its staff and are excited to begin teaching about shipwrecks, the marine life that lives around them, and more!