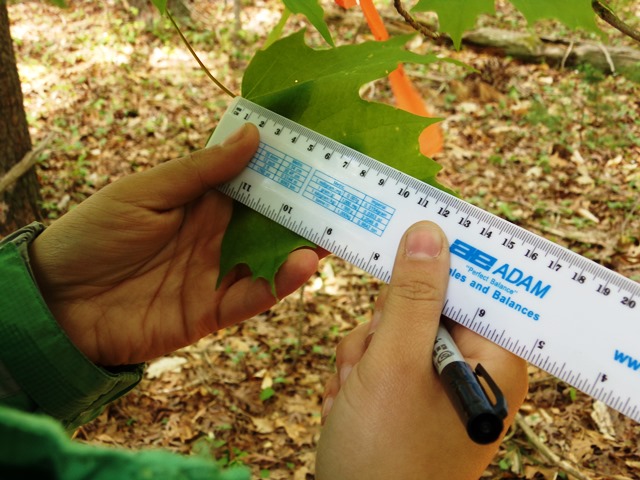 Really, it's leafing out, but who's counting.
In 2014 the Science Center joined the Manomet Center for Conservation Science's climate change studies by tracking the rate of change in the leafing out of trees on the property. We selected two trees of different species (Beech and Red Maple), chose five branches and measured the width and length of five leaves on each branch around May 15. We then did the same thing later in the summer to catch the rate of change, and forwarded our findings.
Well, we're at it again. We have returned to our trees, to our branches, and have chosen five new leaves on each branch. We won't really know until we get the summer numbers, but taking last year's spring data and this year's, we seem to have had an earlier growing season, which seems amazing considering the winter we had. Did all the melting snow translate into an influx of unexpected early season water, giving the trees an early boost?
Last year at this time, the leaves on the Fagus Grandifolia (tree 1, the Beech) averaged:
54 millimeters in width, 122.6 in length
This year:
63 millimeters in width, 132 in length
Last year at this time, the leaves on the Acer Rubrum (tree 2, Red Maple) averaged:
115 millimeters in width, 100 in length
This year:
121 millimeters in width, 100 in length
We'll be back this summer with change results!