February Vacation Week
For Children 3 through 6 years old!
Our unique vacation week program for children ages 3 through 6 at the South Shore Natural Science Center is a partnership between experienced Nature Center Preschool teachers and knowledgeable Science Center Naturalists!  Teachers and Naturalists combine their talents to facilitate children's discovery of the small animals and habitats in their own backyard.
"Nature's Engineers"
Through outdoor exploration, art, and a special focus on engineering experiences, children will investigate the natural world in winter. From snowshoes and warm puffy coats to ice homes and airplanes, we will explore how animals, weather, and plants have inspired people to engineer inventions to survive and enjoy the cold and more!  Please dress appropriately to go outside.
Monday, February 19           Wonderful Owl Wings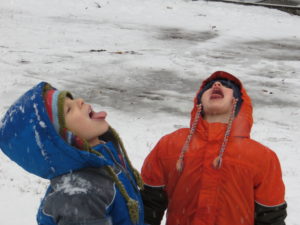 Tuesday, February 20          Brave Winter Birds
Wednesday, February 21     Sculpting with Ice and Snow
Thursday, February 22        Fantastic Rabbit Feet
Friday, February 23             Snuggly Squirrel Nests
For more information, please click HERE
To register, please email Melissa Kurkoski or Diane Thureson
Extended Day options available.